前半はビル先生
JOKES IN PROGRESS!
(Make us laugh by writing an original ending
for each one.)
1. Why did the Italian boy want to grow a mustache?
2. What's the difference betweeen a man and E.T.?
3. If your dog was barking at the back door and
your wife was knocking on the front door,
who would you let in first?
4. Why is it so hard for women to find men
who are sensitive, caring and good-looking?
5. Difference between men and women:
6. At the cocktail party, one woman said
to another,"Aren't you wearing your wedding ring
on the wrong finger?"
The other replied,"
7. I remember the time I was kidnapped and
they sent a piece of my finger to my father.
He said,"
8 A Russian, a Cuban, an American, and a lawyer
were sitting together on a train. The Russian was
first to brag. Pulling a bottle of liquor out of
his bag, he said "In my country, we make very
best vodka in the world, and we have so much
of it!" He opened the bottle, took two quick sips,
opened the train window and threw the nearly-full
bottle out. Everyone was amazed.
Next the Cuban reached into his bag and spoke.
"Where I come from we grow the finest tobacco
and roll the finest cigars. We have so many cigars
we don't know what to do with them!" He lit up,
puffed twice, put his cigar out, and proceeded
to throw the full box out the open train window!
Again everyone was terribly impressed.
皆さんのスパイスの効いた回答に歓声が・・・。
遅刻して参加のために、前半の「ふり」が聞けなくて残念でした。
ビル先生の回答を書き取ることができず・・・残念。
今度、プリントでもらいます。
後半は中川先生
Jun Nakagawa
Ritsumeikan Keisho High School
楽しいCHANTS & RAPを紹介!
1
Pat-a-cake,pat-a-cake,baker's man,
Bake me a cake as fast as you can;
Pat it and prick it and mark it with B,
Put it in the oven baby and me.
2
ラスト・サンデー・チャンツ
A:I went shopping last Sunday.
I got a camera at the shop.
B;I bought a booku last Sunday.
I read the book last night.
A;How did you like it ?
How did you like it?
B;It was interesting.
I like it a lot!
七夕チャンツ
A;Here you are.
Write your wish on this card.
B;Okay. Let me see...
A;What's your wish?
Tell me,please.
B;I wish for peace
all over the world.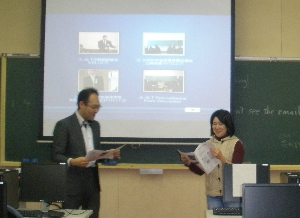 3
BA・BA・BA    VA・VA・VA
SA・SA・SA   THA・THA・THA
LA・LA・LA    RA・RA・RA
very big boy very big bag
sing some songs think these things
long red line little red light
他にいくつかのRAPも紹介してい
ただきました。
リズムに乗って、軽快に口ずさめるのが
いいと感じました。
クラスを半分に分けたり、ペアでやったり
自然に発音や表現を学ぶことができるところが
お薦めです。
学習会が終了した後は、お楽しみの会食!
レストラン「ヤマモト」さんの素敵な料理と
おいしいビールとワイン。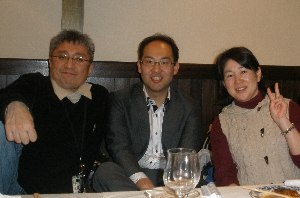 自分はスノボの疲れで行けませんでしたが、
元気なメンバーは2次会へ繰り出しました。
「夜が来る」・・・
きっと、たっぷりと「夜」にひたったんでしょう・・・。
カレンダー
| S | M | T | W | T | F | S |
| --- | --- | --- | --- | --- | --- | --- |
| 1 | 2 | 3 | 4 | 5 | 6 | 7 |
| 8 | 9 | 10 | 11 | 12 | 13 | 14 |
| 15 | 16 | 17 | 18 | 19 | 20 | 21 |
| 22 | 23 | 24 | 25 | 26 | 27 | 28 |
| 29 | 30 | 31 | | | | |
最新コメント
[02/09 Timothynox]
[12/16 pas cher bague bulgari]
[03/11 安達克佳]
[03/10 児玉陽子]
[11/11 replique van cleef & arpel]
最新記事
(03/31)
(02/19)
(01/30)
(12/31)
(12/29)
プロフィール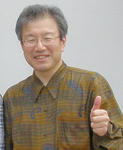 自己紹介:
 平成22年度4月から函館市中学校英語教育研究会会長に就任いたしました。
 よろしくお願いいたします。
最古記事
(06/11)
(06/23)
(06/23)
(06/23)
(06/25)